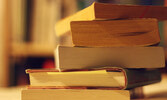 Great books for Entrepreneurs
It seems that every time I'm talking with someone about business, I recommend a book. Often, I will just suggest a step from the EntrepreneurRoadmap.ca where each step has these books listed.

Here is a table with all the books from each step. Reading these will do you wonders as an entrepreneur. These are curated from years of reading dozens of books.
Step 01 - Healthy Entrepreneur
Step 02 - Know Your Customers
Step 03 - Manage Your Money
Step 04 - Map out your plan
Step 05 - Build your team
Step 06 - Process and Duplication
Step 07 - Delegate and Improve