MENTORS
Thank you for helping entrepreneurs!
Whether you are investing, or offering advice, or have services that help entrepreneurs - you are playing the role of a mentor. They need help and you are guiding them towards success.
The problem is, many entrepreneurs might not be ready for investment - or the next level of investment - and some are not even ready for the advice they need to hear.
We want to help you look like a genius, and make your job 10x easier.
The Entrepreneur Roadmap was developed by a mentor after being asked to coffee by hundreds of entrepreneurs wanting help with their business... and asking for advice/money/introductions/a shoulder, etc.
After asking the same questions, and giving much of the same advice, over and over, he systemized the entrepreneur maturing process into this model.
On this page, you have an overview of the model. Each step will have a short video explaining how the tool works and the benefit for the entrepreneur.

If the entrepreneur has an established company, a really great place to start is to have them do the Q20 Business Health Checkup. It will identify the entrepreneurs humility, their strength and weakness areas for their current business and their receptivity to mentoring. Consider it a bit of a triage tool for you to identify hot spots to tackle first.
The whole model is divided into two parts. Create and Improve. We know these 7 steps are the fundamental elements to build any business.
| | |
| --- | --- |
| | Healthy Balanced Entrepreneurs create better businesses. This step helps build some self-awareness and gives the entrepreneur tools for life-planning, productivity, and better personal success. |
| | So many entrepreneurs don't know their market, their customers, or even the problem they're solving. The tools in this section help them to understand these elements better |
| | This step will help the entrepreneur think through their sales process and the financials of their business to see if it even viable. |
| | This is the big business planning tool. How do you tactically get from here to there? From a 10 year vision to what needs to be done this week to execute. |
| | All kinds of tools around hiring, building and motivating a team. How to objectively measure them and keep them inspired and productive. |
| | Helps the entrepreneur be successful through "the bus test". If someone gets hit by a bus, can things keep going? |
| | How to tackle big issues and get better at delegating. There is also a quiz here for determining areas that need help. |
For more information on each tool, click on the step in the image below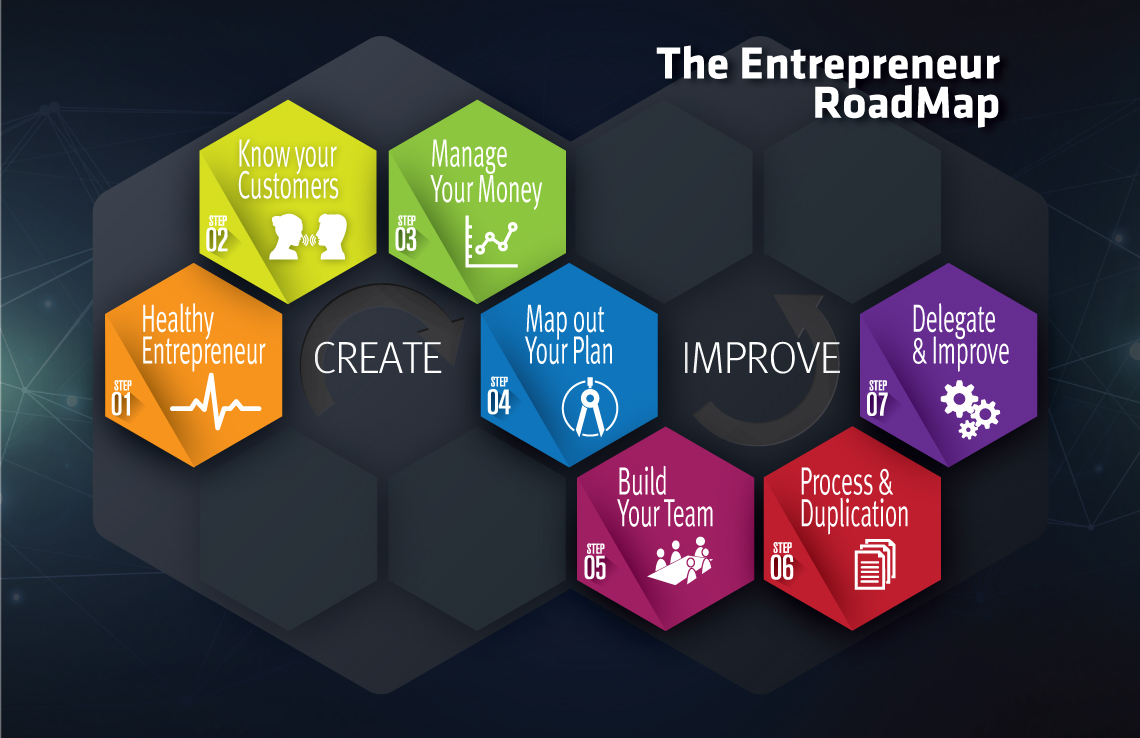 When you have mentoring sessions together, use these tools as homework.

Think of it as if you are the doctor doing a triage and they need a prescription. Give them some homework... if they come back with it completed, you have a good student. If they don't, you can move on to the next entrepreneur.
Examples
You may have a meeting with an entrepreneur and they are having a rough time getting balance in their life. You might suggest they go work through the tools in step 1 and reconnect when they are finished. You can meet and have a meaningful discussion around what they learned and give better suited advice.

Or

They are having trouble connecting their vision with what they need to do today. You might suggest they work through step 4 which will help them create an implementation plan that you could hold them accountable to going forward.

Need help? Reach out any time!